Let's Eat Out!
Not in the mood to cook?  Well here are Dave's & Fran's recommendations and reviews of our favorite local OBX restaurants. These are all places that we continue to enjoy and can personally recommend to our guests.  (No, we don't own stock in them or get free food...LOL.)
Breakfast:
5549 N. Croatan Highway, Kitty Hawk, NC 27949
252-255-2888
As good as the best NY bagel shops, Barrier Island Bagels (formerly Bonnie's Bagels) makes great bagels, egg & deli sandwiches using Boar's Head meats & cheeses. They're located close by in the Food Lion Shopping Center. Dave and Fran are both originally from NY, so they're qualified bagel experts!  B.I. Bagels is also open for lunch. It was a pleasure meeting the new owner Allie for the first time.  Allie is very friendly and welcoming to all her customers. Eat in, sit outside or take some bagels back to the house.
3712 N. Croatan Highway, Kitty Hawk, NC 27949
252-480-2855
Another great restaurant that we love for breakfast is Russo's Bistro (Formerly The Good Life Gourmet).  They make delicious egg dishes, buttermilk biscuits and pancakes as well as other popular breakfast fare.  Fran recommends you try the Breakfast Burrito or the Swiss Cheese & Portobello Mushroom Omelette.  Order at counter, sit down with a coffee at your table and a server will bring your food as soon as it's ready.  
Lunch & Dinner:
The Colington Café   (Dinner Only)
1029 Colington Road, Kill Devil Hills, NC 27948
252-480-1123
Hours: Seven days a week: 5:00pm – 9:00pm
Looking for a quiet place for a romantic dinner out with excellent food?  Then put the Colington Café restaurant on your "must do" list.  Fran and Dave rate it easily in the top two or three restaurants in the Outer Banks.  Their steaks and seafood are fantastic and the extensive wine list is reasonably priced.   Also save room for one of Colington Café's great desserts…Fran's favorite is the fresh fruit cobbler.   Reservations are recommended. 
Josephine's Sicilian Kitchen   (Dinner Only)
3701 Croatan Highway, Kitty Hawk, NC 27949
252-261-2669
Hours: Tuesday-Saturday: 5:00pm – Until. Closed Sunday and Monday
You won't believe that you can get Italian food this outstanding in the Outer Banks.  Like any really good family run restaurant, Josephine's changes up the menu offerings each week so there's always something new to try.  Our recommendation...close your eyes, put your finger on the menu and order whatever you picked, you can't go wrong.   Take note that Josephine's is closed on Sundays & Mondays.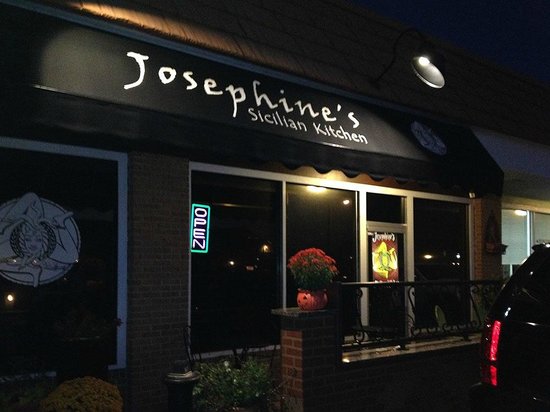 Coastal Provisions Oyster Bar & Wine Bar Cafe
1 Ocean Blvd, Southern Shores, NC 27949
 252-480-0023
A causal place to eat lunch or dinner.  Coastal Provisions is actually both a restaurant and and a take out market / deli.  The fish taco's are fresh and tasty. They have a great selection of wines and a cooler case of imported, micro and local brew beers to try out. The owners also operate Coastal Cravings restaurant in Duck. 
5230 N. Virginia Dare Trail, Kitty Hawk, NC 27949
252-441-8424
If you're craving Thai food, this is the place to come in the Outer Banks.  The restaurant itself is fairly small (about 6 or so tables) so we usually just order out.  The Pad Thai is excellent and the Red and Panaeng Curries are spicy and delicious.  Don't forget to ask for the free spring rolls when you order 2 or more entrees. 
252-480-0032
Cravings is one of our favorite restaurants in Duck with both indoor and outdoor seating. It's easy to miss as it's tucked in next to the BP gas station, but don't let that stop you or you'll miss out on some excellent food. Fran's favorite dinner entree is the Seared Scallops served on Lobster Sauce seasoned with Truffle Oil while Dave usually goes for the Prime NY Steak.  A good selection of local and micro-brew beers are on tap.  Cravings was featured on the Diners, Drive-ins & Dives TV show on the Food Network, so the down side is it's a very popular restaurant and can get crowded.  Tip: If there's a wait, just give them your cell number and they'll text you when your table is ready, meanwhile take a nice walk around Duck.
1197 Duck Rd, Kitty Hawk, NC 27949
252-441-8424
Looking for the best ribs in the area?  Red Skye Cafe serves Dave's favorite dry rub baby back ribs dinner.  Fran on the other hand, loves the NC Coast Stew, a fish, scallops & shrimp combo in a light tomato broth.  The complimentary bread and hot baked artichoke spread is excellent, but be careful not to fill up before your meal arrives as the entrees are abundant.  Order appetizers only at your own risk!
1264 Duck Rd, Kitty Hawk, NC 27949
252-261-3901
Want to watch a fantastic sunset while enjoying your favorite cold drink?  The Sunset Grille, just north of downtown Duck, is a great place to see the sun going down across the Currituck Sound.  There's a Tiki Bar, plenty of outdoor seating and lot's of room on the dock if you just want to come in for a quick drink while watching the sunset. If you're hungry, Fran & Dave recommend staying with something off the appetizer or sushi menu.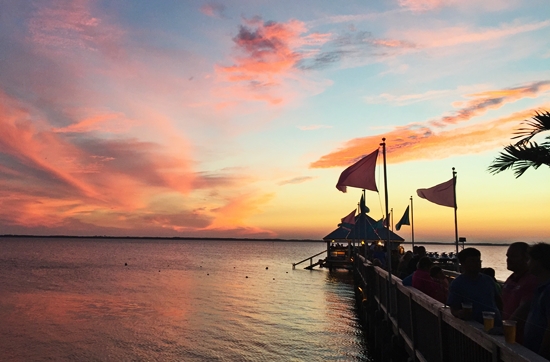 252-255-0375
Good Pizza, Subs & Beer...hard to go wrong with that especially when combined with eating outdoors just off the Duck boardwalk.  Very family friendly and your kids will love eating their pizza on Wave's picnic tables.  Another good place to have a bite and watch the sunset over the Currituck Sound.